Před samotným rozborem knihy bych se ráda omluvila za svou delší odmlku, která byla způsobena hned několika faktory - jednak mě ve škole přetěžují informacemi, které nikdy nebudu potřebovat, pak jsem byla nějakou dobu nemocná a nakonec asi hlavní příčina - nezvolila jsem si tak docela jednoduchou četbu. Druhé pohlaví jsem tak četla skoro tři měsíce, což je trochu ostuda, víc než tato doba mě ale trápí spíš pokuta z knihovny
Překlad Josef Kostohryz a Hana Uhlířová
Druhé pohlaví je jednou z nejznámějších knih stoupenkyně francouzského existencialismu Simone de Beauvoir. Pojednává o psychologii a postavení ženy a dnes se řadí mezi stěžejní feministická díla.
Kniha se dělí celkem na osm kapitol, jimž předchází úvod, v němž se autorka snaží nastínit svůj záměr a objasnit, proč se vůbec rozhodla knihu napsat. První kapitola, nesoucí název Osud, vyvrací, že by žena byla z biologického hlediska podřízena muži, tuto podřadnost způsobil až impuls člověka, proto není přírodním osudem, ale dějinným činem.
Kapitola druhá, Dějiny, se zaobírá vývojem postavení ženy v různých společnostech a ukazuje, že muži měli vždycky v rukou všechnu konkrétní moc. V této kapitole dochází autorka k závěru, že důsledkem asymetrického vývoje postavení mužů a žen je fakt, že se žena nezná a ani nechce být taková, jaká je, ale taková, jakou ji chce vidět muž.
Následuje svým rozsahem nejobsáhlejší kapitola Mýty, kde Beauvoir poukazuje na několik faktů, a to například, že ženy sní sny mužů (klanějí se bohům, které vytvořili muži); že ve všech civilizacích vzbuzuje žena v muži zděšení (promítá do ní hrůzu z vlastní tělesné nahodilosti); že muž bude po ženě žádat mládí a zdraví, protože jí může být okouzlen jen tehdy, když zapomene, že celý život je prostoupen smrtí; že ve vztahu mezi mužem a ženou dochází k zvláštnímu paradoxu, neboť muž si přeje uchvátit v ženě přírodu, ale proměněnou, a proto od ní žádá umělost; že rovnost muže a ženy vyhlásilo v určitém smyslu křesťanství, které v ženě nenávidí tělo (Kristus se zrodil z panny), ale jakmile je zapře, stává se žena právě tak jako muž stvořením božím.
Ve čtvrté kapitole, zvané Dívka, rozvíjí myšlenku, že životním cílem každé dívky je najít si muže, zatímco u mužů je to jen součást života, rozebírá, v jakém je neprovdaná dívka postavení, co se od ní očekává, co jí není dovoleno, jak výrazně se výchova dívek liší od výchovy chlapců, z čehož pramení problémy v dospělosti.
Další kapitola se nazývá Pohlavní zasvěcení a zabývá se traumatem, komplexem méněcennosti a frigiditou, které z něj mohou vzniknout.
Šestá kapitola, Vdaná žena, se zaobírá asymetrickým postavením manželů a poukazuje na to, že manželství oběma přináší výhody i nevýhody a přináší spoustu skutečných příběhů vdaných žen, ať už šťastných, nešťastných, nebo obojí. Jedním takovým příkladem, kterého autorka hojně využívá, je Sofie Tolstá a její deníky. Sofie si nedobrovolně brala o hodně staršího muže a zpočátku tak byla v manželském svazku velmi nespokojená. Postupem času se však se svým údělem smířila a manželství se tak i z jejího pohledu stalo docela šťastným. Beauvoir v této kapitole dochází k závěru, že tragédie manželství není v tom, že ženě nezajišťuje štěstí, které slibuje, ale že ji mrzačí, že ji odsuzuje k opakovanému a navyklému.
V předposlední kapitole, Situace a povaha ženy, se vyskytuje několik zásadních myšlenek. Jakýmsi jejich závěrem je zřejmost toho, že postavení muže je nekonečně výhodnější, protože muž má víc konkrétních možností promítat do světa svou svobodu a z toho nutně vyplývá, že mužovy realizace vynikají nesmírně nad realizace žen - ženám je takřka zakázáno cokoli udělat (zde je dle mého názoru potřeba připomenout, že kniha byla napsána ve čtyřicátých letech a od té doby se situace zlepšila).
Poslední kapitola nese název Nezávislá žena. Zabývá se tím, nakolik závislá je vlastně žena, kterou nazýváme nezávislou, a jak moc se její postavení liší od nezávislého muže. Chtěla bych citovat malou část jejího závěru:
"Muži, jež nazýváme velkými, jsou ti, kteří - tak či onak - vzali na sebe tíži světa; více nebo méně v tom uspěli, podařilo se jim do jisté míry dát světu novou podobu, nebo ztroskotali; ale především na sebe toto velké břemeno vzali. A to právě nikdy žádná žena neudělala, nikdy to udělat nemohla."
Kniha tak ženskou otázku pojímá skutečně zeširoka a zároveň objektivně a mezi nejdůležitější díla feministické filosofie se určitě řadí právem. Vzhledem k tomu, že byla vydána v roce 1949, tedy před více než šedesáti lety, jsou některé úvahy a problémy, na které poukazuje, až překvapivě aktuální. Na jiných však zase vidíme, jak moc se situace zlepšila a že se dnešní svět v jistých ohledech přeci jenom mění k lepšímu. Stále je však za co bojovat. Přestože to nebyla jednoduchá četba, rozhodně nelituji toho, že jsem se do ní pustila.
Mám ještě poznámku k tomu, že český překlad, který se mi dostal do ruky, byl vydán v roce 1967, a docela mě šokuje, že od té doby nikdo český překlad knihy znovu nevydal. Zasloužil by si totiž drobné i větší aktualizace a úpravy.
A na závěr malá zajímavost - kniha Druhé pohlaví je z mně neznámých důvodů na seznamu publikací Index librorum prohibitorum, jež katolická církev cenzuruje nebo rovnou přímo zakazuje. To mi moc nepřipomíná 21. století!
O autorce: Simone de Beauvoir (1908-1986) byla významná francouzská spisovatelka, myslitelka, filosofka a existencialistka. Její jméno je dnes kromě feminismu spojováno také s filosofem Jeanem-Paulem Sartrem, se kterým žila v několikaletém vztahu. Kromě Druhého pohlaví (Le Deuxième Sexe, 1949) patří mezi její nejznámější díla také romány Pozvaná (L'Invitée, 1943; česky 1996) a Mandaríni (Les Mandarins, 1954; česky 1967).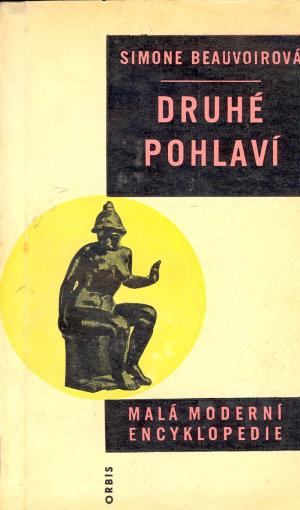 Takhle vypadá nejnovější český překlad knihy. Wow!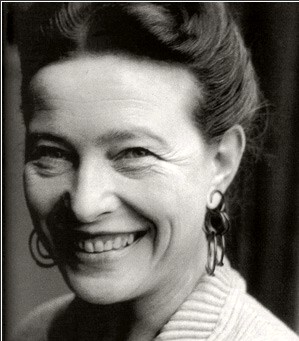 Simone de Beauvoir